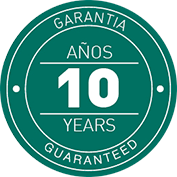 All products manufactured by Tecseal S.A. are produced in accordance with European Standards and AAMA 701/702-04 class A. All our products are water proof and UV resistant.
Tecseal S.A. is certified to ISO 9001/2008.
The warranty period of our products is 10 years, from the date of manufacture. In the unlikely case that a product would fail to adjust to the required standards, provided that it was used/applied according to the conditions and circumstances established by Tecseal S.A., the product would be replaced free of charge within the warranty period.  In the event of any additional cost that may be incurred, Tecseal S.A. shall be released from any liability.
Warranty exclusion and conditions
1.The warranty shall be rendered null and void if the product is modified, incorrectly used, damaged or handled incorrectly by the user while being installed or replaced.
2. Only coverage specifically mentioned in the preceding points will be upheld)
3.Tecseal S.A. will not assume any responsibility for the client's specific applications or the damages made to other products that may be assembled to it.
4.The maximum responsibility will be limited to the number of metres or faulty parts and the original amount invoiced.
5.No responsibility for delays or replacement will be accepted.
6. No responsibility for losses incurred, decrease in or loss of benefits or other damage therein will be accepted.